enewsletters
---
We typically send two emails per month. If you are not already a supporter but want to receive WalkBoston's e/lerts and e-newsletters, Sign up here. 
(Think you fell off our list? Let Brendan know!)
February 21, 2016 - Globe: "Jaywalking is often a symptom of other problems in traffic control" [WalkBoston in the Globe]
February 16, 2016 - 'a responsibility that everyone shares - slow down.'
February 2, 2016 - Alarming Rise in Massachusetts Pedestrian Deaths in 2016
January 20, 2016 - Announcing This Year's Golden Shoe Award Winners
December 29, 2015 - Thanks for making 2015 a year to remember
December 8, 2015 - Globe Editorial Board Supports Vision Zero
November 18, 2015 - help us help others. 
November 13, 2015 - Hope to see you this Sunday for World Day of Remembrance / Launch of MA Vision Zero Coalition
October 23, 2015 - Reminder: Tech and walkability panel on Monday!
October 5, 2015 - Save the Dates: Upcoming WalkBoston Events
September 15, 2015 - Today's Webinar at 1PM: How to use the Surgeon General's Call to Action
September 9, 2015 - Tune In at 10AM: Surgeon General's Call to Action on Walking!
August 28, 2015 - New Community Action Tool; Vision Zero Boston; and more
August 4, 2015 - Safe Mobility Supports Social Mobility
July 10, 2015 - "When we turn to sidewalks, we truly encounter the city's living room."
June 16, 2015 - Will we see you in Allston or Worcester tomorrow? 
May 18, 2015 - E-Alert: Stop Cuts to Transportation Funding & Walk on Wednesday!
May 8, 2015 - Get Out And Support Walking This May 
April 17, 2015 - Chalking Crosswalks, Running Boston, and #WalkTheVille 
March 31, 2015 - Thank You For A Great Week of Walking in Massachusetts 
March 16, 2015 - March E-News: Walkability For All Seasons 
February 19, 2015 - You're Invited: 25th Anniversary (3/25) & Walking Conference (3/26)
February 12, 2015 - Just 36 Days Until Spring
January 23, 2015 - Walkability in the Boston Area 
December 31, 2014 - WalkBoston Turns 25 In The New Year!
December 12, 2014 - Save the Date: 25th Anniversary Celebration, 3/25/2015!
November 18, 2014 - Help WalkBoston Celebrate 25 Years in 2015!
October 31, 2014 - WalkBoston Encourages You to Vote No on 1
October 10, 2014 - Walking Around The Commonwealth
September 17, 2014 - Crucial Public Meetings on Thursday & Row It Forward for WalkBoston
September 4, 2014 - Thanks, Boston Globe! "Saving Lives with Full Data" 
August 22, 2014 - Walking In The News
July 28, 2014 - Rally for a Safer Cambridge Street, 8AM on 7/29 
July 24, 2014 - Legislative Action Alert: A Chance To Curb Sprawl
July 17, 2014 - Pedestrian Safety in the Spotlight 
June 19, 2014 - Support WalkBoston!
June 13, 2014 - A Picture Is Worth 1000 Words
May 23, 2014 - USDOT: Make Our Streets Safer For All Users
May 16, 2014 - MassDOT: Pedestrian Safety Is Part of the Solution  
April 25, 2014 - Recommendation #1 - An Aim of Zero Traffic Deaths 
April 20, 2014 - Good Luck, Marathon Runners! 
April 17, 2014 - WalkBoston's 2014 Annual Walk - May 8, 5-7PM 
April 4, 2014 - The Major I-90 Project That You Know Nothing About
March 24, 2014 - Annual Celebration Recap - And Save These Dates!
March 12, 2014 - Why I'm Running the Marathon for WalkBoston 
March 4, 2014 - You're Invited: Annual Celebration on 3/18!
February 20, 2014 - Reserve Your Spot Today for Annual Celebration
January 30, 2014 - Annual Celebration March 18th & more news! 
January 8, 2014 - Good News, New Resources For You, & Save the Date! 
December 12, 2013 - Action Alert: Mayor-Elect Walsh Town Hall Meeting 
December 6, 2013 - Congress: End Rising Rates of Bike/Ped Fatalities! 
December 2, 2013 - Kickstart Walking with WalkBoston! 
November 14, 2013 - We Need Your Feet On The Ground At These Meetings! 
October 25, 2013 - Membership Drive Kicks Off With WalktoberFest! 
October 9, 2013 - Gov't Shutdown Can't Halt National Walking Summit! 
September 19, 2013 - Candidates: Ready to 'Walk the walk' on Transportation?  
September 4, 2013 - Meet the Future Mayor of Boston! 
---
7.19.13
Cambridge Street Bridge: signing on for safer walking
This week, WalkBoston and 124 others signed on to a letter urging the State to revise their plan to rebuild the Cambridge Street Bridge in Allston.
 
The letter thanks MassDOT for moving forward with the reconstruction of the bridge and urges them to use this once-in-a-lifetime opportunity to make some much needed improvements.
 
The letter lays out four areas that need improvement: pedestrian crossing on Linden Street, the aesthetic aspects of the project, improvements to proposed bike facilities, and safer pedestrian access during construction.
 
To encourage pedestrian safety the letter asks MassDOT to create a safe pedestrian crossing at Linden St. and abandon plans to install a fence in the median so pedestrians and cycles are barred from crossing. The group proposed a "signalized crosswalk from the bus stop at the corner of Linden St. with lights timed in conjunction with the Harvard Ave intersection. This has the added benefits of calming traffic on Cambridge St., where speeding is a chronic issue, and will improve level of service for vehicles turning onto Cambridge St. from Linden. "Red light ahead" signals/signage can be provided on the Westbound approach to improve visibility."
 
The letter went on to suggest aesthetic changes to make walking and biking on the new bridge not just safe, but enjoyable. To read the full letter including bike facility recommendations click here.
 
---
Report: Inadequate Public Transit Hurting State's Low-Income Latinos
 
Last week, Northeastern University's Dukakis Center for Urban and Regional Policy and the community organizing group Neighbor to Neighbor Massachusetts released a report detailing how a lack of public transportation is harming the low income Latino community. The report found that the majority of respondents rely heavily on cars as their primary means of transportation. Though public transportation was more affordable it's lack of efficiency and limited schedule lead many to drive.
 
The study, which surveyed 362 people, found that 3 out of 4 respondents agreed with the statement "If public transportation was better, I would drive and/or be driven less". In addition, focus group participants described how poor access to transit and poor frequency of service resulted in difficulties finding or keeping a job, particularly second-shift jobs. This is a phenomenon often mention by Mayor of Fitchburg Lisa Wong, and others, during the transportation finance debate earlier this year on Beacon Hill.
 
When asked about the report Stephanie Pollock, assistant director of research at the Dukakis Center said "The lack of access to affordable transportation is stealing time and money from low-income working families in Massachusetts and adding stress to their already stressful lives."
 
This report was released as the Governor and the legislature continue to negotiate over transportation investment and funding.  
 
For more information or to download the full report visit: http://www.northeastern.edu/dukakiscenter/report-inadequate-public-transit-hurting-states-low-income-latinos/
---
New Requirements Prioritize Ramps
 
A newly released DOJ/FHWA guideline requires that all roadways, streets and highways that are being altered must, as a part of the alteration project, install curb ramps. This exciting new requirement is intended to ensure the accessibility and usability of the pedestrian walkway for persons with disabilities."
 
The guidelines go on to say, "an alteration is a change that affects or could affect the usability of all or part of a building or facility. Alterations of streets, roads, or highways include activities such as reconstruction, rehabilitation, resurfacing, widening, and projects of similar scale and effect. Maintenance activities on streets, roads, or highways, such as filling potholes, are not alterations."
 
Without curb ramps, sidewalk travel in urban areas can be dangerous, difficult, or even impossible for people who use wheelchairs, scooters, and other mobility devices, so WalkBoston is thrilled to see this new commitment to sidewalks and curb cuts.
 
To read the whole article visit us online at: http://www.ada.gov/doj-fhwa-ta.htm
 
---
WalkBoston in Northborough + The News
 
Northborough residents walk their way to health
"As part of Northborough's "Building a Healthy Northborough" initiative, the town is partnering with WalkBoston on a new walking map.
"WalkBoston focuses on getting people outside and walking on sidewalks," said Joubert. "We planned the routes in town around the emphasis on using sidewalks. I initially selected the routes due to their scenic quality and varied distances. The routes are not physically marked on the streets, but the maps are easy to follow."
---
 
Wish List: Office Chairs!
 
Is your office moving or renovating?
WalkBoston is currently looking for new or slightly used conference room chairs. If you have chairs that you would like to donate please contact Hillary Borcherding at hborcherding@walkboston.org
5.19.13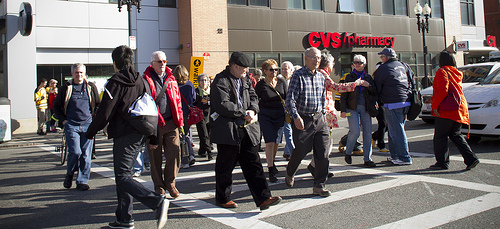 Despite walking's central role in keeping our communities active and healthy, it is frequently overlooked. For the last three generations,
Massachusetts has focused on moving vehicles faster and more conveniently.
Help WalkBoston shift our state and local attention to walking
and help us build statewide support to put walking back into our lives and our communities.
Donate online, by mail [45 School St. Boston MA 02108], or call 617.367.9255.
 
---
Tune in:
WalkBoston on All Things Considered
MassPIRG's recent report, A New Direction: Our Changing Relationship with Driving and the Implications for America's Future, boldly states that the driving boom is over. It calculates that the average number of miles driven in the United States has been declining annually for the past several years and will keep dropping. Advocates of alternative transportation say that as Massachusetts and other states make decisions about road infrastructure versus bike- and pedestrian-friendly projects, they shouldn't "build projects for tomorrow based on assumptions
from yesterday." Listen now.
---
Log on:
Our walking maps are now an app [sort of]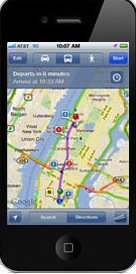 Forget your WalkBoston map at home? Don't panic! Now you can access WalkBoston's maps right from your smart phone.
Google has finally caught up to the high-tech world of WalkBoston and thanks to system-wide updates our maps are now easier to use, easier to follow and filled with helpful information on countless
                                communities across the state.
Here is how it works:
1)    Visit www.walkboston.org/resources/maps
2)    Scroll down, or search for a map of your area
3)    Click view google map, and get walking!
       [make sure you open link in google maps]
---
Read up:
Fighting Climate Change with Safe Routes to School and WalkBoston
For the last three years, WalkBoston has benefited from the generous support of the Barr Foundation. As a part of its climate work, the Barr Foundation is dedicated to helping reduce greenhouse gas emissions, and is focusing on the two biggest contributors – buildings and transportation.
In a recent blog post, Barr Foundation Senior Project Manager Mary Skelton Roberts explains how Safe Routes to School and WalkBoston are working to reduce greenhouse gas emissions one walkable community at a time.  Click here to read the full article and to view our newly released micro-documentary funded by the Barr Foundation. Read more. 
---
Walk in: 
Connect Historic Boston initiative launch  + new WalkBoston historic sites walking map
Tuesday, June 4th, 2013 6-8 PM
At the BSA Space, 290 Congress Street; Boston, MA
See the designs, concepts and outreach programs for Connect Historic Boston, a dynamic partnership between the National Park Service and the Boston Transportation Department to link transit to historic site throughout downtown. Click here to see full invitation.
On view June 4-June 17th.
For more information e-mail:
addy.smith-reiman@cityofboston.gov
---
5.13.13
Walkers' Choice: Union Square
 Congratulations to WalkBoston's 2013 Walkers'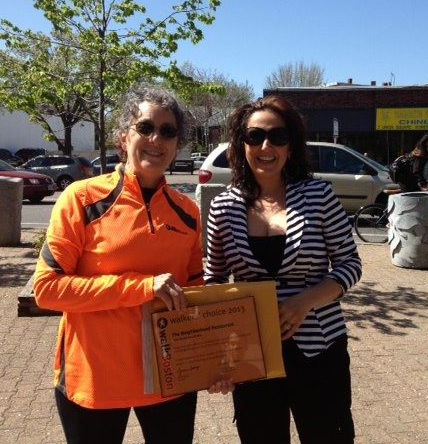 Choice Award winners: The Neighborhood Restaurant and Union Square Main Streets
 
Saturday May 4, WalkBoston and Union Square residents honored our Walkers' Choice award winners at a brief ceremony before the annual Jane's Walk in honor of renowned urbanist Jane Jacobs. WalkBoston thanks both our winners for fostering a welcoming pedestrian environment. People who walk know that the best of urban life takes place on foot. Sidewalks and streets are much more than corridors to move people from one place to the next—with thoughtful and creative uses and designs they can be engaging and meaningful public places. To nominate your favorite walk friendly business for our next walkers' choice award, email hborcherding@walkboston.org.
---
Comment Letters:
Protecting walkers through good design
WalkBoston knows that every new development is an opportunity to improve connectivity, and increase walkbility. That's why we carefully review selected development and transportation projects, focusing on those that are proposed in locations of particular importance to walkers, or projects that will have impacts on a large number of existing (or future) walkers. Recently WalkBoston has submitted comments on the following projects:
 
UMASS Boston Campus Master Plan
Union Square Urban Revitalization Plan 
South Station Expansion Plan
Arlington Mass Ave Corridor Plan redesign project
Caesars Resort at Suffolk Downs
To read these comments or view our full list of comment letters click here.
---
Transportation Finance: Action AlertNow is the time to contact your legislators 
and ask them to weigh in with the Conference Committee.
The House and the Senate have passed transportation finance bills and it's up to us to make sure the final bill has as much funding in it as possible.  Please take a moment to contact your state Representative and Senator.
The bills are currently before a Conference Committee of three House and three Senate members who will reconcile the bills. Then, each chamber will vote on a final bill. The bills passed in both chambers take an important step forward in addressing our long-standing transportation needs.  They make positive changes to the way that transportation is funded, tying transportation funding more closely to transportation-related sources of revenue, and reversing many of the fiscally imprudent practices that have made it so difficult to achieve a 21st century transportation network. Both bills require the creation of a long-term capital plan based on project-selection criteria, an idea that T4MA strongly supports.  
However, we remain concerned that there is not enough money to meet our statewide transportation needs, or to make strategic investments across our commonwealth that will help ensure our economic prosperity into the future.
What can you do? Call your legislators and ask them to weigh in with the Conference Committee. We want to make sure that the final bill invests as much as possible in transportation and dedicates solid revenue sources as soon as possible to our statewide transportation needs.
You can click here to take action.
---
Seeing Eye People Help Walkers Text Safely
April Fools' Day fun courtesy of The Boston Informer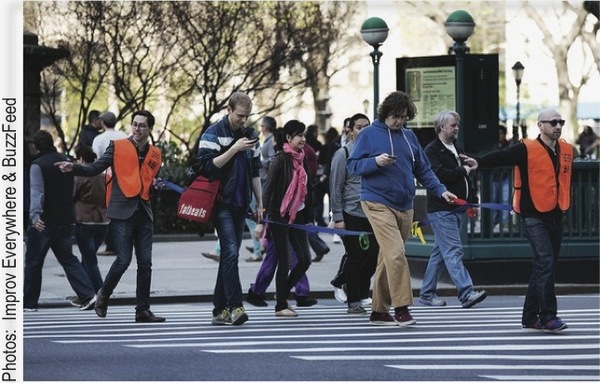 Following release of data on the danger of texting while walking by the American Foam Padding Association, WalkBoston and AAA Southern New England are teaming to do something to stop the idiotic practice. With the number of accidents caused by texting while walking doubling over the last two years, WalkBoston and AAA are developing a multi-purpose effort of education, enforcement, and assistance to keep people safe on Boston's streets. . .
The most promising tool that will be introduced during National Safety Month in June will be the Seeing Eye Person, a guide to help you navigate safety as you walk and text. Just grab hold of the leash that connects you to your guide (the one of you with the orange vest and the brain) and you'll be escorted anywhere in the city.
This April Fools' Day article was featured in the April edition of The Boston Informer. The Boston Informer is available by subscription only. Via
e-mail, $15 per year; via USPS, $29 per year (cheap!). Questions? Telephone (617) 723-7030, fax (617) 437-1886 or e-mail: BostonInformer@cs.com. Check them out on the Web at www.bostoninformer.com!
4.29.13 Walkers' Choice
May 4th, Award Ceremony + Jane's Walk
Meet | Union Square Plaza, Somerville
Walkers' Choice Award | 10:00 AM
Jane's Walk with Union Square Main Streets | 10:15 AM
The Award | Neighborhood Restaurant
Walk through Union Square on a weekend morning and you can't miss the crowds gathered outside The Neighborhood Restaurant. People from all over Somerville enjoying complementary coffee and conversation as they bring life and excitement to the sidewalk.
WalkBoston is honoring the Neighborhood Restaurant for fostering this welcome pedestrian environment. From small touches like sidewalk snacks and coffee, to creatively creating a patio restaurant area, The Neighborhood has gone above and beyond the basics to create lively and inviting environments for pedestrians. People who walk know that life takes place on foot. Sidewalks and streets are much more than corridors to move people from one place to the next—with thoughtful and creative design they can be engaging and meaningful public place.
Walk | Union Square Jane's Walk
Join us for a leisurely stroll through the neighborhood to find about some of the housing and
industrial buildings constructed within the mid 1800s to early 1900s that forged the fabric of
Union Square and established it as a place to both live and work. The walk is led by community
leaders involved with the rebirth of the Square. All are welcome to come and share their own
memories and visions for the future.
View architectural features that typify workers' housing in Somerville, as well as the
industries where these former residents once worked;
Explore representative streets: Emerson and Newton, Lake and Olive Square, Quincy, and
Summer;
Find out about what has changed and why, as seen through the eyes of the people who live
or work there;
Brief "Walk Boston Award" presentation to both Union Square Main Streets and The
Neighborhood Restaurant at the start;
Linger in Union Square for lunch and visits to various Somerville Open Art Studios, an annual
City-wide event from noon to 6pm.
"Jane's Walks" happen world-wide the first Saturday of every May to celebrate the life and
birthday of the late citizen activist Jane Jacobs. Author of The Life and Death of Great American
Cities, Jacobs appreciated cities -- the diversity of people, cultures, and spaces -- and she
successfully fought against developers, politicians and planners who continually ignored the
needs and concerns of local residents. These walks are designed to encourage people to
explore their neighborhood, meet their neighbors, and to share their interests and issues with
others.
This event is co-sponsored by the
Somerville Historic Preservation Commission and
Union Square Main Streets as a kick off to
May Preservation Month www.somervillema.gov/
historicpreservation
3.26.13 Spring Events
Celebration Success + April 8th Walk
What a day! Despite the icy weather, over 200 people gathered at the Microsoft NERD Center for WalkBoston's Annual Celebration, Golden Shoe Award Ceremony, and a talk by MBTA General Manager Dr. Beverly Scott.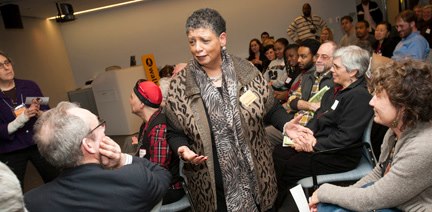 The evening started by honoring the work of Golden Shoe Award winners:
The Barr Foundation: For its extraordinary impact on the Boston region's quality of life by empowering advocates to reduce climate change and create a more equitably transportation system.
The City of Gloucester: For success in making Gloucester a safer, more attractive place to walk and engaging citizens in more walking.
Madison Park Development Corporation: For deep engagement with Roxbury residents to create advocates for a safer, more walkable neighborhood
We were thrilled to welcome Dr. Beverly Scott who spoke about the importance of holistically investing in our transportation system.  From sidewalks, to the T, to roads, one part of the system cannot function without the other. Dr. Scott's energy, humor, and insistence on a transportation system that meets the needs of all Bay State residents inspired the audience.
We thank everyone who attended our Celebration and we look forward to seeing you at our Annual Walk, now scheduled for April 8th.
Let us know if you plan to attend the walk and RSVP today.
For more pictures from last week's celebration visit us on
facebook.
---
April 2nd - Transportation Day!
Tuesday, April 2nd 2013, 10AM-1PM
Join Transportation for Massachusetts, WalkBoston, and many other partners as we encourage our Legislators to invest in a 21st Century Transportation system. In the coming weeks, there will be many opportunities to get involved, including WalkBoston's Bike/Walk Summit on Aprill 11th. WalkBoston encourages you to call-in, walk-in, or write-in, just make your voice heard!
10:00 am Speaking program on steps of the State House
"Transporting Public Health Forward: Why Investments in Transportation Improve Our Health and Wellness," hosted by the legislative Prevention for Health Caucus.  House Members Lounge, State House, 3rd Floor.
Educational visits in the State House & Call-In Day (for those who can't make it in person!)
---
Talk: "The Future of Boston Bridges"
Thursday, April 4th at 6:30pm-7:30pm
at The West End Museum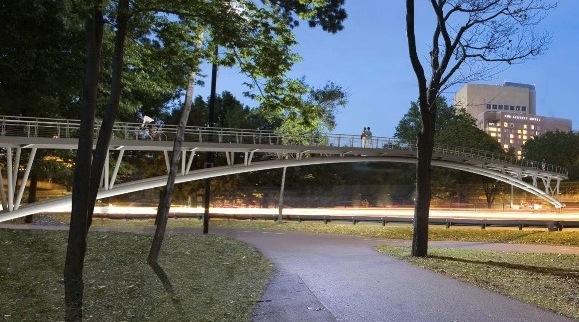 Presentation of designs for new pedestrian bridges along the Charles River Basin that will increase connectivity between
the Charles Circle and the West End with the Esplanade.
Miguel Rosales | lead Architect and Urban Designer for the Leonard P. Zakim Bunker Hill bridge
Cost: FREE
---
April 11th - Bike/Walk Summit
Let's get Beacon Hill Moving!
Thursday, April 11th 2013, 10AM-1PM
Please register today by clicking here.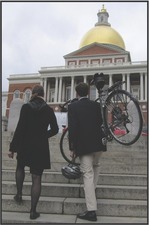 Help us speak up for legislation that helps make walking and biking safer by attending the 2013 Massachusetts Bike/Walk Summit on Thursday, April 11 from 10 AM to 1 PM at the State House in Nurses Hall.
Join us for meetings with you local elected officials, and lunch with special guest speaker Fitchburg Mayor Lisa Wong, a Massachusetts healthy communities rockstar!
Please attend this important event, and make sure that the safety of bikers and walkers doesn't get overlooked. Together, let's get Beacon Hill Moving!
In addition to transportation funding, we will be asking participants to encourage their legislators to support several pieces of bike/ped safety legislation:
Vulnerable Road Users Bill (SD.1639) – Would give added protection to bicyclists, pedestrians and other vulnerable users of the road.
Senior Safety Zones Bill (HD.550) – Would create zones around areas with high senior citizen populations similar to school zones.
Active Streets and Healthy Communities Bill (HD.3091/SD.68) – Creates incentives for communities to design streets which encourage biking, walking and other forms of active transportation.
To view all of WalkBoston's legislative agenda click here.
---
Win Red Sox Tickets!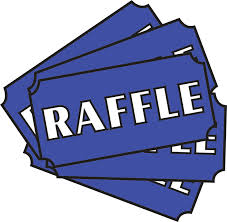 Donate $26 dollars to Jodi Fairbanks' Marathon fundraiser by April 8th, and be entered in a raffle to win Red Sox Tickets!
All proceeds will support WalkBoston and will help Jodi Fairbanks run the Boston Marathon! To learn more about Jodi, and why she is running 26.2 miles to make Massachusetts more walkable visit her fundriasing page at http://www.crowdrise.com/teamwalkboston/fundraiser/jodifairbanks
2.15.13 Keep Moving
Welcome: Program Director Stacey Beuttell
This week WalkBoston was thrilled to welcome Stacey Beuttell as our newest staff member. Stacey is currently teaching at Wentworth Institute of Technology and joins WalkBoston with twelve years of senior project management experience.
Her familiarity with the technical aspects of our work, as well as her passion for walkable communities, makes her an exciting new addition. For those of your who were not able to meet Stacey at our Revere Walks movie event please do introduce yourself during our Annual Celebration on March 20th.
---
Legislative Initiatives + Bike/Walk Summit
The Legislative session is off to an exciting start! WalkBoston is proudly supporting seven pieces of legislation aimed at funding transportation and making walking safer across the state. These bills include:
Senior Safety Zones, HD 2339
    An Act Related to Active Streets and Healthy Communities, HD 1917/ SD 676
    Transportation Investment, Regional Fairness and Accountability to State Policies SD 1670/ HD 3119
    An Act Establishing a Vehicle Miles Traveled Pilot Study, HD 2619
    An Act Establishing Contract Assistance for Central Artery Debt at the MBTA, HD 2609
How can you help?  Stayed tuned for opportunities to contact your own state senator and state representative and let them know that you support funding transportation and bills that promote safer walking.
Also, join WalkBoston and MassBike for our second Annual Bike/Walk Summit on April 11th. This event is free, open to the public, and a great chance to help get Beacon Hill moving on transportation issues. For more information click here.
---
Don't receive the WalkBoston Newsletter? See what you missed:
Taking [some very local] issue with WalkScore
WalkScore rates walkable cities using an "algorithm" based on proximity to transit and "amenities," such as stores and restaurants. Boston comes in 3rd after New York City, and San Francisco, and its top-rated neighborhoods are Bay Village, Chinatown and Beacon Hill. I may step on someone's toes, but I beg to differ.
It's true that Bay Village, #1, is small, cozy with seductive alleys and little traffic. But its sidewalks are one-person wide with craggy bricks and rooty trees, with little to walk to and meager transit. Chinatown, #2, is full of intriguing [cont.]
---
Wanted: Annual Celebration Volunteers
WalkBoston has a 23 year tradition of great Annual Celebration volunteers! This year we are again looking volunteer help, are you interested in volunteering at any of the following times?
Walk leaders and greeters - 3:30-5:30
Volunteers will hold signs, mingle with guests and walk with each group as they make their way through Kendall Square, stopping at different locations along the way.
Set-up and Registration Crew - 4:45-6:30
Help us decorate the room, set up the tables and check-in guests as they arrive! Our Annual Celebration will be held at the Microsoft NERD Center this year at One Memorial Drive, Cambridge MA.
Food, membership and Mingling- 4:45-6:30
Help staff and replenish the food/drink tables as guests mingle before the speaker. Sadly, we have to have bartenders this year, so we will not need volunteer bartenders.
Take Down! - 7:30
Pack it all up and take it home.
Volunteers receive free entrance to the reception and lots of thanks, let me know if you are willing to donate your time. hborcheridng@walkboston.org
---
1.16.13 advocacy in action
Arch St. Crosswalk + Citizens Connect
When Arch Street in Downtown Boston was repaved leaving the once cobblestoned crosswalk unmarked, WalkBoston member Lorna Mortiz contacted WalkBoston for help. At 3:27 PM Lorna emailed Executive Director Wendy Landman and by 5:22 PM the City had already responded! Seem too incredible to be true? It's simple actually, she called Citizen's Connect. Citizens Connect is the City of Boston's award-winning effort to empower residents to be the City's "eyes and ears." Now walkers can alert the City of Boston to neighborhood issues such as broken sidewalks, damaged signs, graffiti, and unpainted crosswalks.
Here is how the system worked for Lorna, after noticing the missing crosswalk Lorna emailed Boston's Citizen Connect. Within two hours the City of Boston responded to Lorna's concerns saying:
"We created a request on your behalf with the city's transportation department for pavement marking maintenance. You will receive a confirmation of the report by email. Please note, pavement marking requests cannot be fulfilled in cold weather since the adhesive material does not form a proper bond. Your request will be reviewed in the spring."
Tools like Citizens Connect, Somerville 311, and SeeClickFix are making it easier for every walker to notice a problem and report it! To start reporting problems in the City of Boston, download the Citizens Connect app, send the City a text text [617-635-4500] or tweet [@citizensconnect] , visit the City of Boston's website, or give them a call!
---
Tufts Health Plan stepping up for walker's safety


WalkBoston believes that making our communities safe and convenient for walkers requires the participation of many different stakeholders. Large employers can play an important role by
paying attention to walking conditions for their own employees, and providing resources to help ensure that their employee wellness programs work outside their doors as well as inside. Tufts Health Plan recently made such an investment, and we hope that they will help to set an example for other Massachusetts companies and institutions.
Tufts Health Plan headquarters sits at 705 Mt. Auburn Street in Watertown. More than 300 Tufts Health Plan employees arrive daily via bus service along the street, and each of them must cross the street to get to or from work. After hearing about many close misses and receiving a large number of complaints about the danger of crossing Mt. Auburn Street, Tufts Senior Safety and Security Specialist Emidio DiVirgilio and Director of Facilities Ronald Reppucci decided that they had to find a way to improve the safety of this busy crosswalk.
In September 2012, Tufts Health Plan and the Town of Watertown announced the installation of a new fixture to make the crosswalk highly visible to drivers. The installation includes a solar panel with a battery backup and a crosswalk sign with flashing yellow LED lights to alert approaching drivers. The WALK signal can be activated by pushing a button or by a motion sensor. The new fixture cost $17,000 and was donated by Tufts Health Plan to Watertown.
DiVirgilio and Reppucci were the driving forces behind the project, and for them it was all about the safety of walkers. They explored several different options for the crosswalk including installation of a new traffic signal and adding stop signs before eventually settling on the bright flashing warning signs. Because the sign system is a relatively new kind of technology, some research, education and convincing had to be done that this was the right approach. In the end, the crosswalk signals were seen as a benefit to both Tufts Health Plan employees and to all Watertown walkers and bus riders who cross Mt. Auburn Street in this vicinity.
Tufts Health Plan's investment is a great example of a business looking outside its front door and working to make walking safer, easier and more convenient for their employees and local residents alike.
---
Bolton gets help from WalkBoston and its volunteer designers
Bolton is a semi-rural community with a process in place to determine how to add sidewalks and paths for its residents. Similar to what we are hearing around the state, the Town is enthusiastic about adding local opportunities for walking. Bolton has to address many issues and opportunities in its quest to add walking routes: its residences are interwoven with open fields, orchards and a vineyard.  It has many narrow rural roads, I-495 bisects the community north-south and Route 117 forms the town's east-west Main Street. A small town center contains the town hall, the community center, the library and the town's middle and elementary schools.
 

The process began in early 2012, when a town committee was assembled to prepare a walkway plan for the town. The Bolton town planner called WalkBoston for advice about developing a plan and we agreed to help. We met with the committee several times, working to prepare a survey of town residents to ascertain walking preferences. At the same time, we helped formulate a plan for a fall forum for Bolton residents to come together to discuss walking issues with the committee.
 
The survey was administered in late summer and results were distributed to town residents via email. As expected, a large majority of residents (89%) favored more walkways. The town committee knew it was on the right track.
 
To prepare for the forum, a slide show of walkway choices was prepared by the town planner. WalkBoston volunteered to find a landscape architect or planner to help lay out walkway options for the former fairgrounds - a significant town-owned parcel in the center of town. WalkBoston also suggested the use of its Walk-by Visioning techniques where each participant would be able to express preferences for potential improvements vias a large formatted set of photos or illustrations.
 
The forum drew 25 participants, all of whom favored walking trails throughout the community, but who were most eager to add roadside paths along Route 117 and to the Nashoba Vineyard. WalkBoston's volunteers - experienced design consultants Tom Doolittle and Don Kindsvatter - presented a plan for a possible 'town green' for walking and cycling right in the town center.
 
Forum participants worked with town maps, using stickers and markers to express preference for different routes and options. These ideas from the forum are now being integrated into an overall plan by the town planner. WalkBoston has been in touch and continues to play a role. The objective of an overall walkway plan is likely to be met in 2013.
---
Don't miss any of our upcoming events! Check out our calendar today!