Tech and Walkability Panel: #WalkTechBOS
Date:
Monday, October 26, 2015 - 5:30pm
Location:
Arnold Worldwide, 10 Summer Street, Boston, MA
REGISTER AT EVENTBRITE: WalkTechBOS.eventbrite.com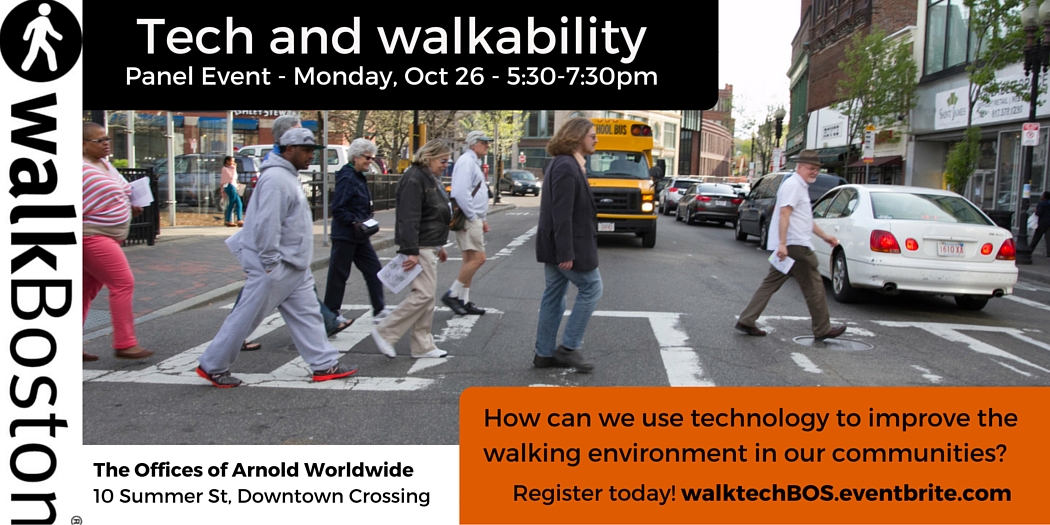 Tech and Walkability: How can we use technology to improve the walking environment in our communities?
WalkBoston is celebrating our 25th anniversary this year, so we're looking at many different aspects of walkability. In this panel, we'll take a look at walkability and tech - how they are connected, how they can be used to improve health and communities, and where there is opportunity in the future. Thank you to Arnold Worldwide for hosting our event!
Panelists include: 
Elizabeth Christoforetti (Placelet / MIT Media Lab)

 

Jonathan Mugmon (Applied Wayfinding / Legible London) 

Chris Osgood (City of Boston's Chief of Streets) 

Caroline Smith (SeeClickFix)